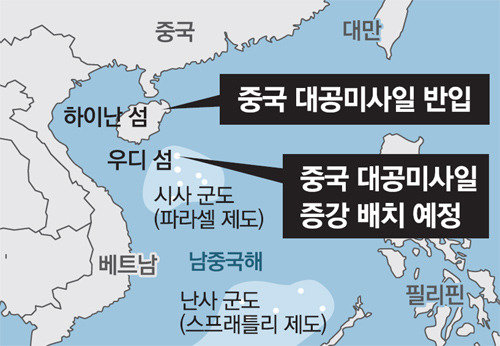 China is pushing to deploy an additional 500 anti-aircraft missiles to its natural and man-made islands in the South China Sea, which are embroiled in territorial disputes.
On Sunday, Fox News reported that a maximum 500 surface-to-air missiles were brought into Hainan Island, the largest island in the South China Sea, in an apparent move to defend Woody Islands and the military airfield on two man-made islands in Paracel Islands.
A satellite imagery analysis found that the missile system has a mixture of short and long range missiles and will be deployed in the man-made islands as soon as early next year. In particular, the Chinese version of the SA-21 surface-to-air missile system was found to be included, which is capable of detecting and tracing 100 targets as far as 402 kilometers away and shooting down six of them simultaneously. The SA-21 system can intercept U.S. fighter jets and fighter bombers including the F-22, F-35, and B-2.
In February, satellite imagery showed that an HQ-9 surface-to-air missile battery was set up on Woody Island, but the number of missiles was insignificant. It is unprecedented for China to deploy such a massive amount of surface-to-air missiles in the South China Sea. The report came out after China seized and returned an underwater U.S. drone. By doing so, China let it be known that it will not back out in the territorial tit-for-tats with the U.S. in the South China Sea.
China flexed its military muscles by sending a long-range strategic bomber, the H-6K, flying over the nine-dash line, which China claims to be the territorial border of the South China Sea, after U.S. President-elect Donald Trump made remarks on Dec. 11 that he may not acknowledge "One China Policy," which does not recognize Taiwan as an independent country.
On Monday, the Chinese Global Times ran an editorial arguing "Chinese fleets will cruise across the East Pacific Ocean someday." The newspaper claimed that provoking the U.S. is not the purpose of Chinese aircraft carriers' deep-sea navigation, adding, "If the Chinese fleets continue to navigate regularly in the areas of core interest for the U.S., that will certainly make a difference in the dynamics between the U.S. and China where the former pressures the latter unilaterally."
Ja-Ryong Koo bonhong@donga.com
Comments
comments