The central province of Thua Thien – Hue opened an exhibition inside the
Hue imperial citadel on May 16 to display a collection of UNESCO world
documentary heritages found in Vietnam.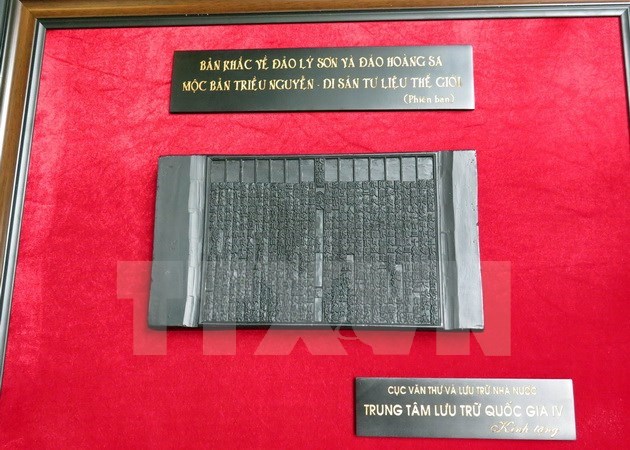 A version of the Nguyen Dynasty's woodblock on display at the exhibition.
Recognised by the UNESCO Memory of the World Committee for Asia and the
Pacific, woodblocks and royal documents of the Nguyen Dynasty, doctoral
steles at the Temple of Literature, and woodblocks found in Vinh Nghiem
pagoda in the northern province of Bac Giang are being exhibited.
The exhibition also introduces other potential submissions for UNESCO's
accreditation as world documentary heritage, including poems carved on
Hue citadel's architectures and Hue Buddhist woodblocks.
UNESCO established the Memory of the World Programme in 1992, aiming to
prevent the risk of humankind's invaluable documents falling into
obscurity and to encourage countries worldwide to preserve and promote
their tangible heritages.
The 34,555 plates of woodblocks used for rudimentary printing in the
Nguyen Dynasty (1802-1945) recorded the official literature and history
of the feudal era. It also marked the development of wood-block carving
and the printing profession in the country.
The Nguyen era's royal documents number nearly 200,000 pages, including
those on laws, decrees, edicts and instructions for resolving problems
in various fields such as politics, military affairs, foreign affairs,
economy, society and culture. Among these valuable documents are also
those that affirm Vietnam's sacred sovereignty over the Hoang Sa
(Paracel) and Truong Sa (Spratly) archipelagos.
The 82 stone steles at Hanoi's Temple of Literature were inscribed with
the names of 2,313 doctorate holders who passed the court examinations
in the Le-Mac dynasties (1442-1779).
Made in the early 14th century by monks at Vinh Nghiem pagoda, more than
3,000 woodblocks provide a wide range of information on the formation,
development and ideology of Truc Lam Zen Buddhism, founded by King Tran
Nhan Tong in the 11th century.
VNA
Comments
comments