Indonesia hosts workshop on the East Sea
The 26th workshop on managing potential conflicts in the East Sea took place from November 15-17 in Bandung, Indonesia.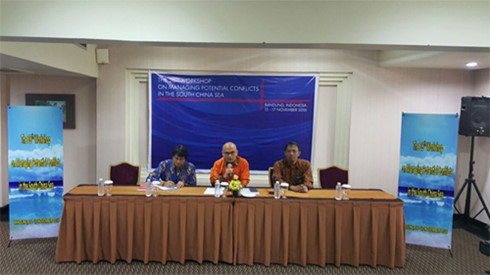 The workshop drew representatives from Indonesia, Brunei, Myanmar, Malaysia, Laos, the Philippines, Singapore, Vietnam, China and Taiwan-China. 
Speaking at the opening ceremony, Desra Percaya, Director General for Asia-Pacific African Affairs of the Indonesian Ministry of Foreign Affairs, stressed the importance of the East Sea to the region and the world, affirming Indonesia consistent commitment to maintaining peace, stability and prosperity in the area. 
Among the topics discussed were projects which were approved at previous events. 
In particular, participants lauded the efforts of governing bodies in carrying out projects, such as Study of Tides and Sea Level Change and Their Impacts on Coastal Environment in the East Sea, East Asia Network for Education and Training and Maritime Law Enforcement "Pre Service Training". 
They also offered suggestions for effective project implementation and reviews on new cooperation project proposals and master plans for future workshops. 
First held in 1990, the workshop helps boost understanding and cooperation between countries, contributing to managing potential conflicts and maintaining peace and stability in the East Sea. 
It is considered an important channel to foster cooperation and build trust in the East Sea.
VNA
Comments
comments