North Korea is calling its submarine-launched ballistic missile (SLBM) test on Saturday a "great success," while South Korea labeled it a failure.
Military analysts, however, are classifying the missile launch as a "successful failure."
North Korea's claim, made through its state news agency KCNA, that it now has another means by which to carry out a "powerful nuclear attack" seems to exaggerate its present military capabilities.
The South Korean Joint Chiefs of Staff's negative assessment points out the current limitations of the North's SLBM program.
Fell short
The missile launched Saturday traveled only 30 kilometers before falling into the sea, Seoul said, which was well short of the minimum range of 300 kilometers for the medium-range ballistic missile it tested.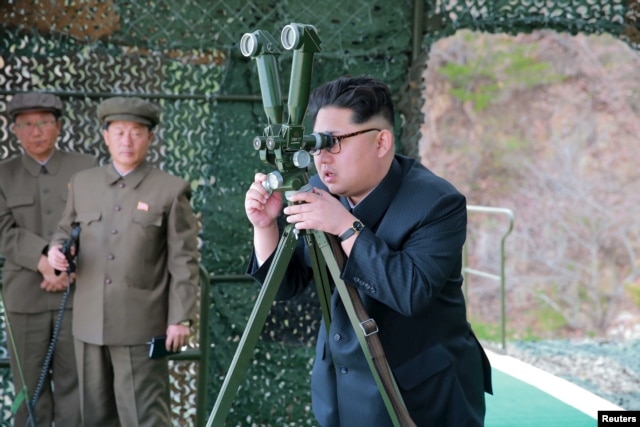 A photo shows North Korean leader Kim Jong Un focusing on the underwater test-fire of a strategic submarine ballistic missile in this undated photo released by North Korea's Korean Central News Agency (KCNA) in Pyongyang, April 24, 2016.
Another Seoul government source said the missile's engine malfunctioned shortly after it was launched.
SLBM development
North Korea is considered to be in the early stages of developing a submarine-based missile launch capability. It has attempted three SLBM tests in the last year.
All were believed to have been failures, even though KCNA claimed otherwise, and – according to analysts – videos of past launches were edited to make them appear successful.
Still, analysts say with each test Pyongyang is correcting past mistakes and coming closer to developing a dangerous new capability to strike its enemies in the region and even target the U.S. mainland.
"Even test failures push development forward," said North Korea analyst Daniel Pinkston via Twitter on Sunday. Pinkston is a lecturer in international relations with Troy University in Seoul.
Melissa Hanham at the James Martin Center for Nonproliferation Studies in Monterey, California, said still photographs of Saturday's test seem to indicate the submarine-based missile has now been upgraded to use solid fuel.
"A solid fuel SLBM would mean they could launch more easily and quickly with potentially less risk to their sub," Hanham told VOA via Twitter.
Visitors look at the north side at the Imjingak Pavilion near the border with North Korea, in Paju, South Korea, April 24, 2016.
Analysts from the James Martin Center for Nonproliferation Studies posted a video analysis of Pyongyang's last submarine missile test in January to prove it was an explosive dud and not the great success claimed by North Korea.
Future threat
North Korea currently maintains one of the world's largest submarine forces with approximately 70 underwater vessels.
However, most of these submarines are old, built with 1950s technology and powered by diesel-electric, which means they can only stay submerged and hidden from radar for a few days at a time.
Since Kim Jong Un came to power in 2011 the North Korean military has accelerated efforts to modernize its submarine fleet, according to Jane's Intelligence Review, a global security journal.
Pyongyang likely overstated the results of its SLBM capability to enhance Kim's image within the country as it prepares for a rare and major ruling Workers Party congress in early May. The country's last major party congress was held in 1980.
And there has been speculation the North Koran military was under pressure to quickly conduct a successful test after a midrange land-based missile launch ended in catastrophic failure earlier this month.
Jeffrey Lewis, director of the East Asia Nonproliferation Program at the Middlebury Institute of International Studies in California, said it is important to distinguish between North Korea's short-term failures and the looming threat in the future.
"On the one hand, yes, we should be cautious, and we shouldn't overreact to what they've done. But nor should we let that cause us to slip into a kind of denial about what their goal is," Lewis said.
A man watches a TV news program showing a file footage of a missile launch conducted by North Korea, at the Seoul Train Station in Seoul, South Korea, April 23, 2016.
North Korea's strategic goals for developing nuclear missile strike capability from submarines is first for defense. Having an underwater nuclear arsenal would give Pyongyang a "second-strike" capability if the U.S. or South Korean forces attempted a preemptive attack against its land based missiles, according to analysts.
Developing a SLBM capability that is fitted with a nuclear warhead would also give North Korea the ability to strike against the U.S. mainland.
The U.S. Strategic Command, headquartered at Offutt Air Force Base in Nebraska in the central U.S., said in a statement that North Korea's recent submarine missile launch "did not pose a threat to North America" and that U.S. military forces "remain vigilant in the face of North Korean provocations and are fully committed to working closely with our Republic of Korea and Japanese allies to maintain security."
WATCH: Related video of North Korea missile launch
Comments
comments