US President Barack Obama's visit to Vietnam is being touted as a historic one for many reasons. America's history in Vietnam is very well known and documented, but today hangovers of the war are slowly being replaced by the reality of fast changing geopolitical dynamics of the Asia-Pacific. Today, Hanoi and Washington are looking for a renewed relationship and this is almost exclusively led by the unprecedented rise of China, specifically its aggressive postures over its claims on the South China Sea.
One of the most awaited outcomes of Obama's trip is whether, after decades of contentious relationship, the US is ready to completely remove, or at least ease, the military embargo against the country that disallows the US to sell military equipment to Vietnam. However, there are obstacles, as Vietnam's lack of democracy and a contentious human rights record could limit what all Obama can achieve during this trip.
But it is the rising tensions in the South China Sea that would top Obama's agenda. Hanoi has been at odds with Beijing over the latter's unprecedented spree of building artificial islands in the region, especially around the oil-rich Spratly Islands. These tensions have built favourable common ground between the US and Vietnam and both Obama's 'Asia Pivot' and Vietnamese President Tran Dai Quang's 'Look East' policies seem to converge towards a common goal, containment of Chinese 'overreach' in the South China Sea.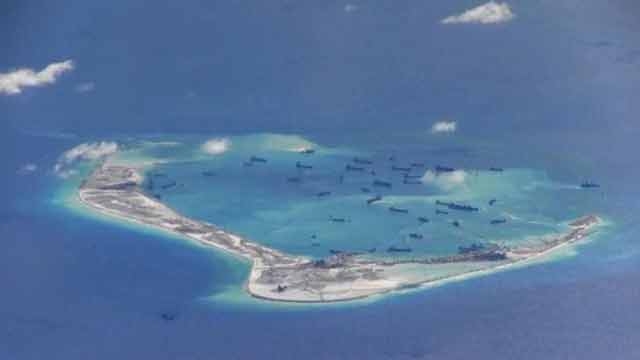 China's artificial islands in South China Sea. Reuters
For India, greater military ties between the US and Vietnam may come as good news for its own 'Act East' policy. New Delhi has already made its stance clear on the South China Sea and the freedom of navigation rights under various UN conventions, specifically UNCLOS. Recently, four ships from the Indian Navy's Eastern Fleet left for a more than two-month operational deployment in the South China Sea and the North West Pacific. The travelling fleet is going to make port calls at Subic Bay in the Philippines, Sasebo in Japan, Busan in South Korea, Port Klang in Malaysia, Vladivostok in Russia and perhaps most importantly Cam Rahn Bay in Vietnam.
Cam Rahn Bay is an interesting example to quantify the current geopolitical games being played in the Asia-Pacific. Even as Hanoi is looking for stronger ties with the US, it has to also look and balance out its historically close relations with Moscow, which provided critical military backing to Vietnam during its war with the US. Till 2002, the military field at Cam Rahn Bay was mainly alive with Russian fighter jets, bombers and naval ships. For the former Soviet Union, this was also the biggest base abroad for them at the time. The Russian Pacific Fleet, during the India–Pakistan war of 1971, was mobilised from Cam Rahn Bay to defend India when the US sent in its Seventh Fleet to put pressure on New Delhi and protect its ally in Pakistan.
In President Vladimir Putin's post-Soviet Russia and as part of Moscow's renewed attempts at global power projection, in 2014, Russian long-range bombers patrolling the Pacific, specifically around the US military base in Guam, started to get in-flight refuelling help from Russian tankers taking off from Cam Rahn Bay. Even though the Vietnamese white paper on defence from 2009 states that no foreign military will be able to operate forward bases from its soil, Russia has through the years managed to get concessions played on its unprecedented help to North Vietnam.
Meanwhile, India has also upped its defence relations with Vietnam as part of its 'Act East' policy. The Indian Navy has been tasked with partnering Russia in training Vietnamese sailors on the Kilo class submarines that Hanoi has ordered from Moscow as part of a very active defence expansion. Beyond this, New Delhi has also made strategic investments in Vietnam's offshore oil and gas sector in areas that Beijing directly stakes a claim on. India's state-owned ONGC Videsh (OVL) had signed Production Sharing Contracts (PSCs) for exploratory blocks 127 and 128 with 100% Participating Interest (PI) in Offshore Phu Khanh Basin, in Vietnam in May 2006. In November 2007, the Embassy of China in New Delhi made a demarche on these contracts to the Ministry of External Affairs, claiming China's undisputed sovereignty on the area covering the two blocks. The Vietnamese side, however, reaffirmed its sovereign rights in the area of these two blocks in January 2008. OVL has accordingly, continued its exploration activities. Later, OVL had reportedly approached the government claiming the blocks were not considered economically viable and wanted to abandon activities there. However, New Delhi decided to keep the blocks, even if at a loss, to make a stand on both the Indian views on the South China Sea and Vietnam's sovereign claims in the region.
Obama's visit is going to be a conclave of his own designed 'Asia Pivot', India's 'Act East' policy and Vietnam's 'Look East' policy. However, perhaps much more progress on building unity amongst Southeast Asian states themselves is the immediate need of the hour before larger policies against Chinese aggressions in the region can be orchestrated between the US, India and the wider region in question.
Comments
comments