Raytheon (NYSE:RTN) is one of the major defense companies, primarily drawing revenue from defense contracts from the U.S. as well as to allies. Raytheon historically was centered around its missile defense systems and derives half of its revenue from sales of those systems, with the other half of revenue derived from aerospace and cybersecurity.
Oft overlooked by its larger cousins, Boeing (NYSE:BA) and Lockheed Martin (NYSE:LMT), Raytheon's established products and services in the defense industry serve to protect its bottom-line while growth of its cybersecurity related sales could continue to propel this stock.
At a time of geopolitical unrest in Asia and in the Middle East, Raytheon is positioned to continue to secure new defense contracts. With Trump's visit to Asia currently underway, informal speculation of a new missile defense systems purchase by Japan is a harbinger of new foreign defense contracts to be filled by U.S. defense contractors. Additionally, as ground-based deployments have become a pariah in light of the large cost and political backlash at home, the U.S. military has become more dependent on missile strikes and UAVs for their tactical work rather than troops on the ground through Obama's presidency. With President Trump's militaristic outlook, we can expect this trend to continue.
Like many of its peers, Raytheon has experienced substantial year to year growth. Whilst in the past year, Raytheon has not been dominant, it remains a stock worth considering. When compared to other major defense companies in the last 3 months, Raytheon's stock is positioned to continue to perform well within the defense industry. Especially at a time where sentiment around the recent performance and outlook of Boeing and Lockheed is unsure, Raytheon shines a good stock to hedge the excellent performance that has come to be expected of the defense industry.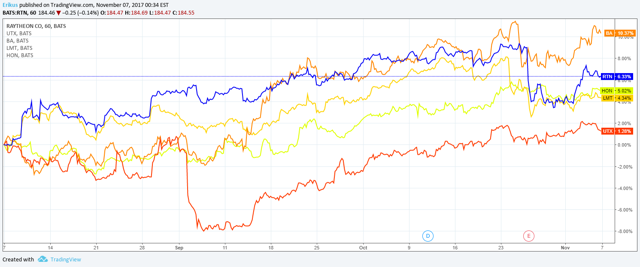 (Full size graph available here.)
Furthermore, the EPS and P/E ratio is much in line with other defense stalwarts like Boeing, Lockheed Martin, Honeywell and United Technologies. The Q3 EPS of $1.97 exceed predictions by $0.06, but the quarterly revenue of $6.3B missed by $30M. Yet the increase in revenue was 4.5%, driven largely by backlog caused by strong global demand. With a strong foreign presence, Raytheon executives are confident in generating more sales driven by overseas demand.
The table of net sales and operating income for the different segments, in USD millions (Raytheon IR) also demonstrate that the company is growing both net sales and operating income, across a number of its different segments.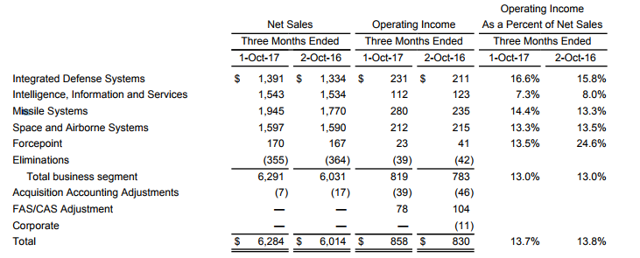 Raytheon's innovation in military air and ground sensors and development in missiles and missile defense systems has established it in the defense industry and ensure a consistent source of revenue. With only minimal overlap in products offered by the competition from other defense contractors, each of the major defense companies occupy their own core niche within the sub-industry. Growth from missile systems and cybersecurity solutions should give the overall earnings a substantial boost and remain a core segment of the company. While still small, expect to see Forcepoint and the Intelligence services expand in the near future, particularly if cybersecurity defense spending is increased for contractors.
In conclusion, with a steady stream of income from core defense contracts, in addition to sales driven by new technologies in cybersecurity and existing sales of missile defense systems globally, Raytheon is poised to increase its revenue substantially. For investors, the increased sales should drive up the value of the stock and continue to be a good pick for those interested in long-term growth.
Disclosure: I am/we are long RTN.
I wrote this article myself, and it expresses my own opinions. I am not receiving compensation for it (other than from Seeking Alpha). I have no business relationship with any company whose stock is mentioned in this article.
Comments
comments