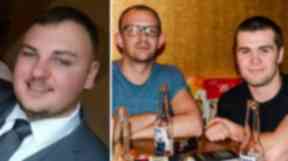 Four Scottish sailors stranded on a ship in the South China Sea will return to dry land later this week, it has been reported.
Their vessel, which has been at anchor for nearly a month following the collapse of South Korean shipping giant Hanjin, is expected to dock on Wednesday.
Glasgow College sea cadets Ruaridh Hanna, from Dingwall, David Gorniak, from Springfield, and Gavin McPhail, from Paisley, have spent weeks aboard the Hanjin Louisiana along with a fourth cadet who has asked not to be named.
Zodiac, the firm which sponsored their work placement aboard the ship, reportedly turned down an offer which would have seen them return to shore at the weekend.
SNP MP Drew Hendry, who has led efforts to have the cadets return home to Scotland, said: "The situation for these four Scottish cadets is still very concerning, as despite the offer from CMI Offshore to help get them home they are still at sea.
"CMI Offshore had generously proposed to arrange a ship transfer vessel to get the cadets off and take care of all of the documentation required.
"All that was required was the go-ahead from Zodiac and the Hanjin company itself.
"Zodiac are reported to have turned down this offer, which would have guaranteed the cadets' return. However, I now believe that there is a proposal for the vessel to dock on September 28.
"The cadets have been let down before when a previous ship transfer arrangement failed to materialise so we must now ensure that this proposed berthing happens."
Last week, Hanjin's shares rallied when its biggest shareholder agreed to lend the firm £41.5m to allow it to offload the £10.7bn worth of cargo its ships are carrying.
The company had reportedly avoided docking its vessels to prevent them from being seized while it secured bankruptcy protection.
A spokesman for the Nautilus seafarers union added: "'Nautilus believes it is imperative that these cadets are allowed to return home at the earliest opportunity and that their ordeal is finally brought to an end.
"We hope that all the various parties involved in the operation and management of the vessel will put an end to the uncertainty which has dragged on for too long."
Comments
comments