The burned body of a man has been found in a car in the middle of a wildfire zone in California, police have said. 
The Los Angeles County sheriff's department said firefighters found the remains of a man inside a burnt sedan car parked in the driveway of a house in Santa Clarita on Saturday.
The force said there was no evidence the death was crime-related. 
The house is in an evacuation zone ordered by authorities after a wildfire has blackened more than 31 squares miles of brush since Friday after it was withered by days of 100F (37.7C) heat.
A second fire around 300 miles up the coast is blazing across an area around 10 square miles from Big Sur. 
Both evacuations have meant thousands fleeing from their homes.
Strong winds have driven the flames further into residential areas with firefighters reporting that some buildings had been engulfed in fire  – but it was not immediately clear whether they were homes or commercial buildings. 
The spokesman for the US fire service, Nathan Judy, said the area was still unsafe late on Saturday night. 
He said: "You've still got hotspots in that area, a lot of smoldering stuff.
"It's not a one-direction type of fire. It's going in different directions depending on which way the wind is blowing. It's doing what it wants."
More than 1,600 firefighters were battling the blaze, whose cause is under investigation, as huge plumes of smoke are visible across the area. 
Los Angeles County Deputy Fire Chief John Tripp described the flames as charging through terrain "like a freight train."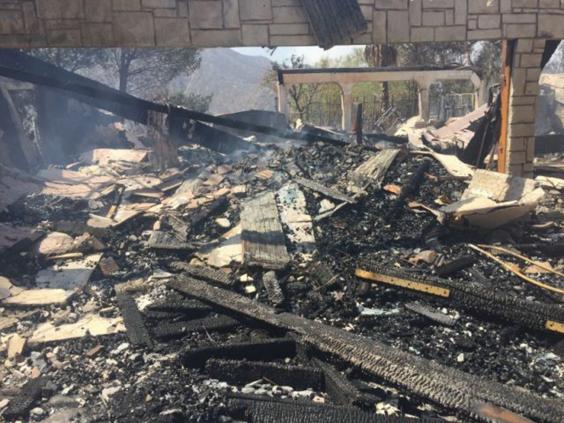 The remains of a home destroyed by fire in Santa Clarita. Over 1,000 homes are at risk (AP)
The fire has also destroyed sets at Sable Ranch in Santa Clarita, which has Old West-style buildings used for movie locations. 
It forced a nonprofit sanctuary for rescued exotic creatures to evacuate 340 of its more than 400 animals, including Bengal tigers and a mountain lion. 
Volunteers showed up with trucks and trailers and evacuated animals from early Friday to late Saturday, when fire officials felt the blaze was no longer a threat to Wildlife Waystation in Sylmar, spokesman Jerry Brown said. 
The evacuated animals were housed in three or four locations, and the sanctuary will wait at least 24 hours before bringing them back. 
Additional reporting by AP
Reuse content
Comments
comments