US holds aviation exercises with Japan and South Korea while Seoul says North Korean hackers stole US-South Korean war-time plans, apparently including a plan to eliminate the DPRK leadership.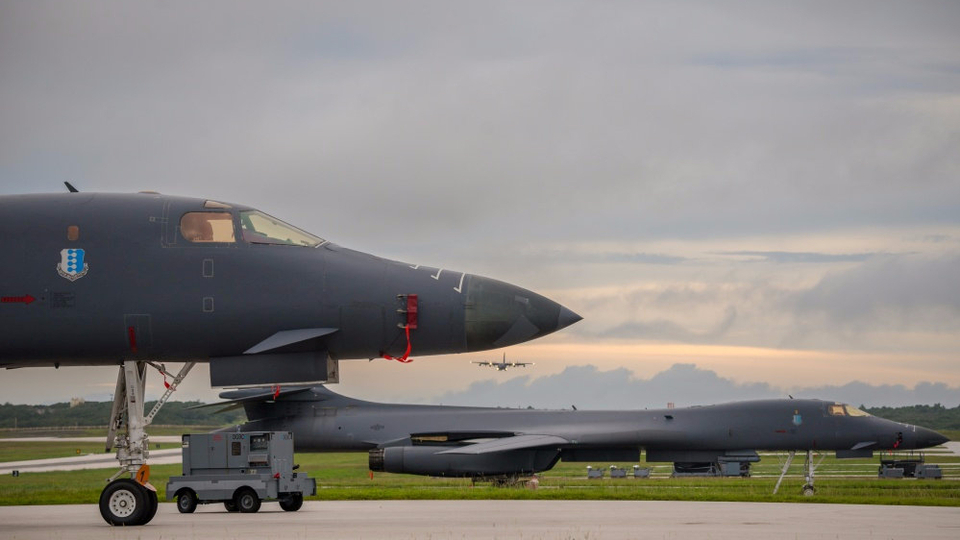 The US military flew two strategic bombers over the Korean peninsula in a show of force late on Tuesday, as President Donald Trump met top defence officials to discuss how to respond to any threat from North Korea.
The two US Air Force B-1B bombers were joined by two F-15K fighters from the South Korean military after leaving their base in Guam, South Korea's Joint Chiefs of Staff said in a statement on Wednesday.
After entering South Korean airspace, the two bombers carried out air-to-ground missile drills in waters off the east coast of South Korea, then flew over the South to waters between it and China to repeat the drill, the release said.
The US military said in a separate statement it conducted drills with Japanese fighters after the exercise with South Korea, making it the first time US bombers have conducted training with fighters from both Japan and South Korea at night.
Guards up
South Korean and US government officials have been raising their guard with the approach of the 72nd anniversary of the founding of North Korea's ruling party which fell on Tuesday.
Trump hosted a discussion on Tuesday on options to respond to any North Korean aggression or, if necessary, to prevent Pyongyang from threatening the United States and its allies with nuclear weapons, the White House said in a statement.
As Seoul and Washington show off their alliance in the air, the two sides are also busy preparing  Trump's first official trip to Asia next month, which South Korean state media says could include a visit to the heavily fortified demilitarized zone separating the North and South.
According to the White House, Trump met with military leaders on Tuesday night, discussing a response to any further aggression from Pyongyang.
North Korean hacks US-South Korea operations
US and South Korean wartime operational plans, including a plan to wipe out the North Korean leadership, were stolen by North Korean hackers last year, a South Korean ruling party lawmaker said on Wednesday.
Some 235 gigabytes of military documents were taken from South Korea's Defence Integrated Data Centre in September last year, Democratic Party representative Rhee Cheol-hee said in radio appearances on Wednesday, citing information from unidentified South Korean defence officials.
In May, an investigative team inside the defence ministry announced the hack had been carried out by North Korea, but did not disclose what kind of information had been taken.
Pyongyang denies taking the data, which apparently includes guides on identifying members of the North Korean leadership, sealing off their locations and eliminating them.
According to the politician who's spoken out on the hack, it was result of a simple mistake that occurred after maintenance work at a Defense Data Centre.
Officially, South Korea won't comment on the claims because it says the situation is too sensitive.
Source: Reuters
Comments
comments