Nation
Posted at: Jun 5, 2016, 1:18 AM; last updated: Jun 5, 2016, 1:18 AM (IST)
SHANGRI-LA TALKS
Half of country's trade done through these waters, says Parrikar
US warns of action, Beijing unfazed
US Defense Secretary Ashten Carter on Saturday warned China against provocative behavior in the South China Sea, saying "any action by China to reclaim land in the Scarborough Shoal, an outcrop in the disputed sea, would have consequences"
"I hope that this development doesn't occur, because it will result in actions being taken by the US to isolate China," Carter said
The deputy head of China's delegation to the forum said any attempts to isolate China would fail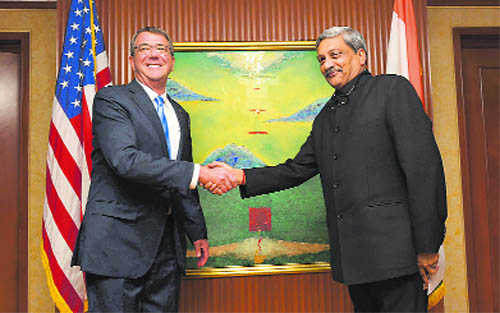 Tribune News Service
New Delhi, June 4
Defence Minister Manohar Parrikar today expressed concern at ongoing territorial dispute in the South China Sea and sought its peaceful resolution lest any tensions harm economic progress.
Speaking at the Shangri-La Dialogue in Singapore, Parrikar made it clear that more than half of India's trade passes through these waters and it has good relations with all countries.
China claims the South China Sea in entirety and is locked in a dispute at the UN with Brunei, Taiwan, Malaysia, the Philippines, and Vietnam. The US, Japan and India oppose the claims while China tells the three 'external powers' to remain out of the regional dispute.
"While we do not take a position on territorial disputes, which should be resolved peacefully without the threat or use of force, we firmly uphold freedom of navigation and overflight in accordance with international law, in particular the UN Convention on the Law of the Sea," Parrikar said.
He had a word of caution on the dispute spiralling out of control. He said all countries in the region needed to recognise that our shared prosperity and the enviable rates of growth that we enjoyed over the past decades would be put at risk by aggressive behaviour or actions by any one of us. All of us will suffer, irrespective of whether we are big or small states. We need to work towards actions to lower the temperature, and prioritise developmental and growth considerations above all else.
At the heart of dispute are over-lapping claims in the hydrocarbon-rich South China Sea. Last month, China warned that it would not accept a UN-mandated arbitration and demarcation of the exclusive economic zone (EEZ) in the sea.
The US Energy Administration estimates that 11 billion barrels (bbl) of oil reserves and 190 trillion cubic feet (Tcf) of natural gas reserves lie buried under the South China Sea-bed. 
The US Geological Survey (USGS) in 2010 did a "world petroleum resources assessment" and arrived at as-yet undiscovered estimates of an additional 5-to-22 billion barrels of oil and between 70-to-290 Tcf of gas to be under the South China Sea. India has interest in two oil blocks off the coast off Vietnam.
All readers are invited to post comments — responsibly. Any messages with foul
language or inciting hatred will be deleted.
Comments
comments