U.S. Rep. Elise Stefanik recently traveled to two Asian nations with other new members of the House Intelligence Committee. 
The committee members visited Japan and South Korea last week. Stefanik, R-Willsboro, said she met with Gen. Vincent Brooks, commander of U.S. Forces Korea, while in South Korea. 
"This trip was an important opportunity for new members of the House Intelligence Committee to highlight the importance of working with our allies in the region and to continue to build on our intelligence sharing capabilities," she said. 
Stefanik also met with a North Korean defector who shared a personal account of life in the nation. And she spent time with members of the military serving abroad, including soldiers who were once stationed at Fort Drum. 
The committee assignment is new for Stefanik. She was appointed to the panel in January at the start of the 115th Congress. 
Serving on the House Intelligence Committee will allow her to build on her work as a member of the House Armed Services Committee. 
"The House Intelligence Committee plays an important role in keeping our nation safe, and I was pleased to have the chance to visit with General Vincent Brooks, United States Forces Korea, to learn more about the serious threats facing us," Stefanik said. 
Army honors Stefanik
Stefanik received the Distinguished Civilian Service Award, which is the highest civilian honor presented by the Department of Defense. 
The award recognizes civilian employees "whose careers reflect exceptional devotion to duty and significant contributions of broad scope in policy, scientific, technical or administrative fields that increase effectiveness and efficiency." 

+1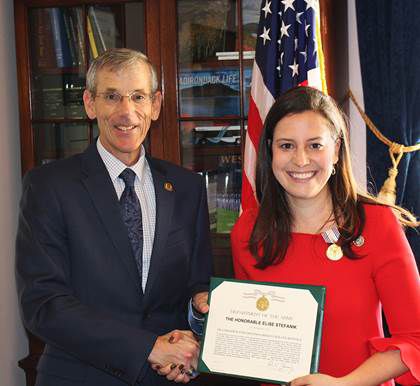 Stefanik, a member of the House Armed Services Committee, is chair of the Subcommittee on Emerging Threats and Capabilities. Her district includes Fort Drum, a major Army installation. 
The award was presented to Stefanik by Robert Speer, acting secretary of the Army. 
"I thank Acting Secretary Speer for this tremendous honor," Stefanik said in a statement. "As the proud representative of Fort Drum, I am grateful for the opportunity to support our men and women in uniform and will continue to work in Congress on policies that strengthen our defense and achieve our national security goals." 
Comments
comments