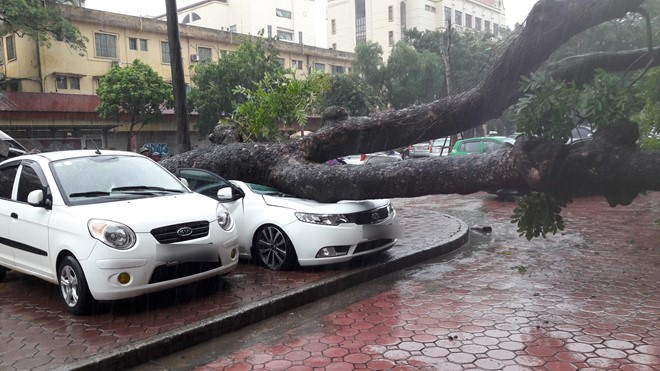 A
big tree falls into a car in Hà Nội's Hai Bà Trưng Street during the
third tropical storm of this year, internationally named Dianmu.

The provinces from Bình Thuận to Cà Mau and Kiên Giang will be affected.

It was stated in the latest warning issued by the National Centre for Hydro-Meteorological Forecasting this morning.

The
centre said some 2-3 tropical low-pressure systems and storms were
forecast to hit the East Sea this month, of which, some 1-2 tropical
low-pressure areas and storms were expected to hit coastal central
localities.

In
the meantime, the central and Central Highlands regions were put on
alert for torrential rainfall, flash floods and landslides due to the
combination of the cold spell and the inter-tropical convergence zone
this month, the centre said.

Statistics
released by the General Statistics Office has revealed that natural
disasters killed 125 people and injured 266 others during the first nine
months of this year.
Comments
comments