Ambassador Nguyen Phuong Nga, head of the permanent Vietnam mission to
the United Nations, has called on parties concerned to immediately stop
actions that change the status quo, destroy marine environment and
further complicate the East Sea issue.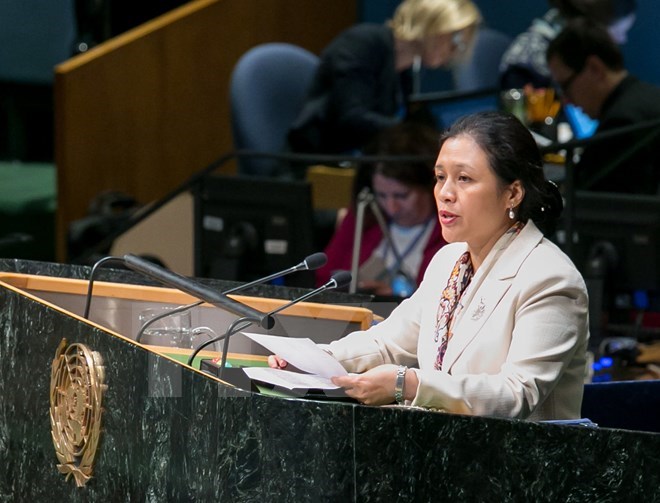 Ambassador Nguyen Phuong Nga.
The ambassador made the call at the 26 th meeting of States Parties to
the 1982 UN Convention on the Law of the Sea (UNCLOS) held in New York
from June 20-24, attracting 79 out of 168 member states, international
organisations and 10 observer countries.
Speaking at the meeting on June 23, Nga affirmed the significance of the
UNCLOS in creating a legal framework to adjust member states' rights
and interests in terms of the peaceful, fair, stable and effective use
of the sea and the oceans.
She hailed the Resolutions on the Law on the Sea and Oceans, and
sustainable fishing adopted by the UN General Assembly last year, as
well as the working outcomes of the Preparatory Committee on marine
biological diversity beyond national jurisdiction.
Nga also expressed concern over the recent complicated developments in
the East Sea, particularly large-scale construction and upgrade that
changes the nature of several structures in the East Sea, as well as
militarised actions that erode trust, exacerbate tension and seriously
impact peace, stability and security in the region.
Disputes in the East Sea must be resolved by peaceful means in line with
international law, including the UNCLOS, she said, adding that parties
concerned need to fully and effectively realise the Declaration on the
Conduct of Parties in the East Sea (DOC) and work towards a Code of
Conduct in the East Sea (COC).
During discussions, the Vietnamese delegation spoke highly of the
operations of agencies established under the UNCLOS and lauded the
International Tribunal for the Law of the Sea for its rulings and
suggestions last year, contributing to the explanation and application
of the UNCLOS terms.
It also welcomed the Commission on the Limits of the Continental Shelf
(CLCS)'s efforts to examine member countries' reports last year, and
underscored the need to amend CLCS's operation rules to make it possible
to offer recommendations to rejected reports, including those made by
Vietnam, in accordance with the UNCLOS.
VNA
Comments
comments